Hospital suspends elective heart surgeries on children after CNN investigation – CNN
Atlanta (CNN)St. Mary's Medical Center in West Palm Beach, Florida, has suspended elective pediatric heart surgeries after a CNN investigation calculated that the program had a mortality rate for open heart surgeries three times higher than the national average.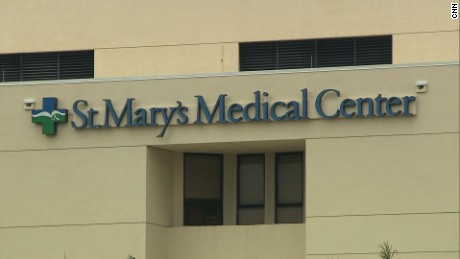 A press release issued by the hospital late Sunday night said they were launching a "comprehensive review" of the program involving external experts.
CNN report on high mortality rate for babies at Florida hospital leads to inquiry
"We currently have no elective pediatric congenital cardiac surgery cases scheduled, and we do not intend to schedule any until we have completed our review," the hospital stated in the press release.
The hospital did not define "elective," and did not say how long they anticipate their internal review to take, or who would be conducting it.
"I'm so happy," said Nneka Campbell, whose ten-month-old baby, Amelia, died after open heart surgery at St. Mary's in 2012. "This is a victory for every baby. I'm grateful that more babies don't have to die at St. Mary's."
Secret deaths: CNN finds high surgical death rate for children at a Florida hospital
CNN's story about the program, where at least nine babies have died since 2011 following open heart surgery, has spurred a federal probe into the hospital by the Centers for Medicare and Medicaid Services. Most of the babies in the hospital's open heart surgery program have been Medicaid recipients, according to data the hospital submitted to the state of Florida.
The hospital continued to do surgeries on babies under six months old even after they were advised to stop last year by the chairman of a state-sponsored expert panel that reviewed the program.
Read the documents on St. Mary's Compliance Report
In its press release, St. Mary's continued to criticize the CNN report, saying that the mortality rate CNN calculated was "exaggerated" and "inaccurate." The hospital said "for the four year period ending on June 30, 2014, the risk-adjusted mortality rate for our program was 5.3." The hospital said its data was based on all surgeries as "reported to STS [the Society for Thoracic Surgeons.]"
The Society of Thoracic Surgeons, the gold standard for mortality rates for heart surgeries, calculates open-heart mortality rates by dividing the number of deaths by the number of open-heart cases. The hospital did not provide that raw data in its latest news release. CNN has repeatedly requested those raw numbers, but the hospital has not made them public.
CNN's calculation was based on all open-heart surgeries reported to the state of Florida by the hospital since the inception of the program in 2011 through 2013.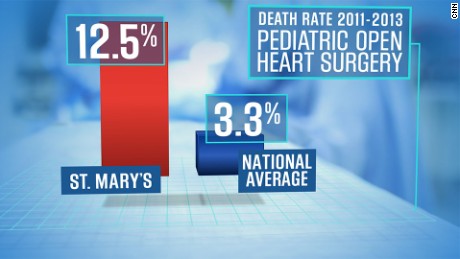 CNN found from looking at state records submitted by St. Mary's that from 2011 to 2013, the hospital performed 48 open heart surgeries. CNN spoke to six families whose babies died during that time period after having open heart surgery at St. Mary's. That gives an open heart surgery death rate of 12.5% from 2011 to 2013.
Nationally, the average mortality rate for babies having open heart surgery from 2010 to 2013 was 3.3%, according to Dr. Jeffrey Jacobs, the chair of the Society of Thoracic Surgeons National Database Work Force.
Jacobs said the 3.3% rate is not risk-adjusted. CNN's number is not risk adjusted either. Risk adjustment involves taking into account the condition of each patient and adjusting the rate accordingly.
Twice a year, the Society of Thoracic Surgeons analyzes the mortality rates of more than 100 hospitals that do children's heart surgeries, such as St. Mary's. Many of them allow the society to publish these rates right on its website, but St. Mary's does not.