The mystery surrounding the whereabouts of Mark Hamill's Luke Skywalker in the new Star Wars film, The Force Awakens, continues to grow after the Jedi knight was once again absent from the latest round of marketing.
New posters showing key characters such as Daisy Ridley's Rey, John Boyega's Finn and Adam Driver's nefarious Kylo Ren, as well as the returning Han Solo (Harrison Ford) and Princess Leia (Carrie Fisher), were unveiled online by Disney on Wednesday. Apart from Fisher, each is shown carrying their weapon of choice, lightsabers for Finn and Ren, a staff for Rey, and a good old-fashioned blaster for Solo.
Skywalker was also absent from the recent final trailer for The Force Awakens, as well as its accompanying poster, though some fans believe a hooded figure placing his mechanical hand on droid R2-D2 might be the long-lost Jedi knight. Director JJ Abrams has been careful to cultivate the sense of mystery surrounding Luke's whereabouts, telling the Associated Press last month that the character's omission was "no accident".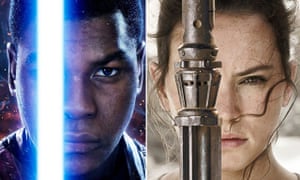 Conspiracy theories have abounded, in particular the idea that Skywalker might have turned to the dark side since the events of 1983's Return of the Jedi. Lucasfilm president Kathleen Kennedy has suggested the new film will continue to examine the conflict between the dark and light sides of the force in key individuals. She also revealed in August that Abrams had been attracted to the project after she pitched him the premise: "Who is Luke Skywalker?" Many acolytes are, therefore, expecting Hamill to play a pivotal role in events.
Star Wars: The Force Awakens is due to debut in UK cinemas on 17 December, and arrives in the US a day later.
In related news, reports suggest Disney is considering dropping images of Fisher dressed as Jabba's bikini-clad slave in Return of the Jedi from future Star Wars merchandise and comic book appearances. The artist J Scott Campbell, who has worked on several Star Wars comic book covers, reportedly said in a Facebook comment that he had it on good authority that "Slave Leia" would not be appearing in future.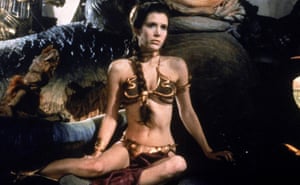 "I've heard it from two sources," he posted. "We can't even draw Leia in a sexy pose at Marvel, let alone in that outfit! We also had a 3-D SL statue killed at a major manufacturer because there will no longer be any SL merchandise."
Fisher's appearance in the skimpy outfit has been controversial ever since it first debuted in 1983. The actor recently told Ridley, as the two discussed Star Wars for an article in Interview magazine: "Don't be a slave like I was. You keep fighting against that slave outfit."