This is a historical adventure about the extraordinary story of Arthur Hobhouse when he emigrated to Australia. He is joined by many characters including: the hateful piggy bacon, Dear Ida, Marty, Aunty Maggs and lots more.
This book has SO many exciting twists and turns and lots of exciting characters!
I didn't like the hateful piggy Bacon he was very cruel to all the boys in his orphanage.
One character I did like was Dear Ida who cared for the boys and gave Arthur his lucky key back and I also liked Allie who was very brave when she faced the most challenging journey. Although my favourite character was Arthur because of his never-ending hope and his braveness.
In this book there are lots of themes, there is love, friendship, and bullying.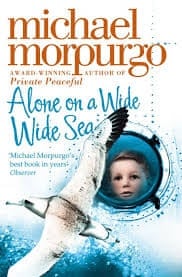 This book is amazing but it is also very sad although there are lots of happy parts. Piggy Bacon made me angry because of his cruelty.
Sometimes the book could be a bit shocking because there were a lot of unexpected things that happened in it.
I have read some books by this author but I haven't liked any as much as I liked this. I am not sure why.
I would recommend this book to people aged 11+ as there are some upsetting things that happen and younger children might not understand this.
I would rate this book 4 or 5 stars because it was amazing, gripping and thrilling!
I would definitely recommend this book.
I hope people will want to read this book and enjoy it as much as I did.
Good for people for Christmas!
Want to tell the world about a book you've read? Join the site and send us your review!