Children's Book Show: The competition to find young storytellers is back – The Independent
Are you sitting comfortably? Then I'll begin. Once upon a time there was a children's author and illustrator called Jessica Souhami. As well as writing books – something that she's done for the past two decades – Souhami goes on a journey every year. Her quest takes her to schools across the country where she weaves a spell with her words and entrances the children who listen to her. She is part of a travelling group of bards who make up the Children's Book Show, an annual series of events that sees writers and illustrators putting on creative workshops in a bid to foster a lifelong love of literature in children. Occasionally, though, these storytellers need a bit of prompting from a good – and persuasive – fairy, in the form of Sian Williams. Williams is director of the Children's Book Show, an event that is supported by The Independent.
"I have this telephone call from Sian every year and she knows it is terrifying for me," says Souhami. "But by the time Sian gets off the phone I've usually agreed to do twice as much as I did before. I still get very nervous about it so I'm not sure how good it is for my blood pressure."
Culture news in pictures
1/30



11 November 2015

Visitors watch 1960s work by US photographer Joel Meyerowitz during the opening of the 19th edition of the Paris Photo Fair, the international fina art photography event that hosts leading galleries and artbook dealers, at the Grand Palais in Paris. The fair runs through November 12-15

2/30



10 November 2015

A visitor looks at Kalpataru: The Wishing Tree, a festive light installation by Delhi based designers Sarthak and Sahil, on display at the V&A museum in London

3/30



9 November 2015

A visitor views chef d'orchestre 1966, part of the Alexander Calder: Performing Sculpture exhibition which is held at the Tate Modern in London between 11 November and 3 April

4/30



8 November 2015

Musician Joe Walsh performs onstage during LACMA 2015 Art+Film Gala Honoring James Turrell and Alejandro G Iñárritu, Presented by Gucci at LACMA in Los Angeles, California

5/30



7 November 2015

Britain's Camilla, Duchess Of Cornwall, is shown models from the World of Wearable Arts Museum in Nelson, New Zealand

6/30



6 November 2015

Ceramic poppies from the Weeping Window, part of the Blood Swept Lands and Seas of Red artwork which was shown at the Tower of London last autumn, installed at St George's Hall, Liverpool, as the nation prepares to remember its fallen service men and women with Remembrance Services to be held across the UK over the next few days

7/30



5 November 2015

The chefs are getting ready for the daily service for the Mad Hatter's Afternoon Tea at Sanderson hotel, London. The Alice in Wonderland themed afternoon tea has been re-imagined with new cakes and artistic details

8/30



4 November 2015

Students from Central Saint Martins respond to Gustav Metzger's worldwide call for a Day of Action to Remember Nature at Central St Martins in London

9/30



3 November 2015

A Palestinian woman paints a mural, depicting a masked Palestinian holding a knife, in support of Palestinians committing stabbing attacks against Israelis, in Rafah in the southern Gaza Strip

10/30



2 November 2015

Max who, along with his girlfriend, has started Forest and Found is working in his shed. They specialise in finding old pieces of wood – from skips, or picked up during woodland walks, and turn them into amazing works of art – from spoons to chopping boards. Their work will be featured on a new website called The Small Home (www.thesmallhome.co.uk) launching on November 5 which is dedicated to supporting independent designers and craftspeople

11/30



1 November 2015

A general view of the atmosphere during The World Famous Oxford Street Christmas Lights Switch On Event taking place at the Pandora Flagship Store in London

12/30



31 October 2015

Actors (L-R) Josh Hutcherson, Jennifer Lawrence and Liam Hemsworth attend Lionsgate's "The Hunger Games: Mockingjay – Part 2" Hand and Footprint Ceremony at TCL Chinese Theatre in Hollywood, California

Getty

13/30



30 October 2015

Japanese artist Takashi Murakami poses next to an artwork ahead of the opening of his exhibition 'Takashi Murakami: The 500 Arhats' at Mori Art Museum in Tokyo, Japan

EPA

14/30



29 October 2015

A model parades a creation during the Hu Sheguang and Huqiu Bridal City Collection show at China Fashion Week in Beijing

AFP/Getty

15/30



28 October 2015

Visitors look at Anna Boghiguian's work "The Salt Traders" at the 14th Istanbul Biennial at Galata Greek Primary School in Istanbul, Turkey. Disparate ideas like a sea-borne zoo, an Aboriginal peace treaty and the lost birdsong of a ruined Armenian capital form a cohesive body of work at this year's Istanbul Biennial, a top international art show taking place in turbulent times. "Saltwater: A Theory of Thought Forms," drafted by U.S.-based art historian Carolyn Christov-Bakargiev, is inspired by the waterways that shape this ancient city, and the sprawling show set in 36 venues stretches from a Black Sea lighthouse to the island refuge of the Russian revolutionary Leon Trotsky

16/30



27 October 2015

A boy looks at a painting by Spanish artist Pablo Picasso during the opening of the exhibition "Picasso! l'exposition anniversaire" (Picasso! the anniversary exhibition) at the national Picasso museum in Paris

17/30



26 October 2015

The Bottles by RCM Collective is displayed during the 2015 Sculptures by the Sea exhibition at Bondi in Sydney, Australia

18/30



25 October 2015

People visit the British artist, Susan Philipz's art installation called "More than this" at the Andalusian Centre of Contemporary Art in Seville, southern Spain. The exhibition will run until 7 February 2016

19/30



24 October 2015

An art object depicting a portrait of Russian President Vladimir Putin from the installation "History of Russia in Axes" by Russian artist Vasily Slonov is seen on display during an exhibition titled "Quilted Cavaliers of the Apocalypse" at the Winzavod center of contemporary art in Moscow, Russia

20/30



23 October 2015

Lalique's master artisan crafts handmade crystal decanter, France. The decanter showcases signature technique of contrasting clear and frosted crystal finishes to showcase its perfect detail and enhance the unique amber colour of tequila from the Hacienda Patrón in Jalisco, Mexico

21/30



23 October 2015

Commuters walk past an installation by artist Subodh Gupta outside the V&A in London

22/30



22 October 2015

Spanish artist Marcel.li Antunez Roca, well-known in the international art scene for his mechanotronic performances and robotic installations, poses next to one of his creations, ahead of the exhibition "Alsaxy" at the Shadok museum in Strasbourg, eastern France

23/30



21 October 2015

This morning saw the launch of 'Swept Up' in Leicester Square – subtle, delicate and atmospheric in this morning's Autumnal rains. Michael Trpak's theatrical pieces encourage people to stop, look up and enjoy the trees and the Square, and for them to find a moment in their busy day to stop and reflect. Brought to London for the first time by Heart of London Business Alliance, in collaboration with 4ourcreativearts, Leicester Square sees artist Michal Trpak's beautiful 'umbrella people' flying amongst the plane trees of Leicester Gardens in a stunning Autumnal installation

24/30



20 October 2015

Early morning commuters received a surprise in Battersea Park as a modern take of George Seurat's classic 'A Sunday Afternoon on the Island of La Grande Jatte' was brought to life to celebrate the launch of the Affordable Art Fair Battersea this week

25/30



19 October 2015

People stand next to tents during a tent cultural festival in Hefei, Anhui province, China

26/30



18 October 2015

Michael Fassbender, Kate Winslet and Danny Boyle attend the 'Steve Jobs' Closing Night Gala during the BFI London Film Festival, at Odeon Leicester Square in London

27/30



17 October 2015

A woman dressed as a "Catrina", Mexico's grand dame of death, attends an alebrijes parade in Mexico City. Alebrijes are colorful sculptures that combine components of different animals to create a unique fantastical creature. The term was penned by Mexico City folk artist Pedro Linares, who originated the art form in the 1930s based on creatures he dreamt about during a severe illness, which he began recreating after his recovery

28/30



16 October 2015

Artist Lauren Baker has designed set of bespoke chandeliers for the pop-up at the Moniker Art Fair , she was inspired by the bee logo of Patrón and designed the features to "create an alluring den for bees to buzz around"

29/30



15 October 2015

A young visitor passes by the light installation 'Ocelot' by Cestmir Suska and Petr Pufler from Czech Republic during the Signal Festival in Prague, Czech Republic. The festival features international and local artists presenting new technologies and lighting design in the streets of the city through video mapping projections and audio-visual installations

30/30



14 October 2015

A visitor walks past artwork by Chris Martin at the Frieze Art Fair in London. The Frieze Art Fair, which is one of the world's leading contemporary art fairs, runs until October 17
Despite the rigours of putting on shows for 400 children aged between five and 10, the benefits of encouraging pupils to develop their own stories (while persuading teachers not to disturb their creativity by lending them a helping hand) seem well worth it.
"There was one child – the teacher told me he'd never written anything before but he was so proud at the end of the day because he'd actually written a story," she says. "The most important thing for me is that the children tell their own stories. What I do is give them the skeleton of a story, but then it's up to them how they develop it."
On stage with the children, her main aim is to get the children to make their own books. She gains their interest by emphasising that – with an illustrated children's book – "you only see one spread at a time, one double page at a time, so you don't know what happens".
First established in 2003, the Children's Book Show is more than just a tour. It also includes a competition for young writers. Last year, Jessica had to judge 100 entries to find the winner – and, contrary to the received wisdom about the gender gap on education, more boys entered the competition than girls. The 2014 winner came from Grange Farm, a state primary school in Coventry. Seven-year-old Jonathan Smith triumphed by bringing the Cinderella story up to date – rather than leave a slipper behind at the ball after attracting the prince's interest, this modern-day Cinderella leaves her iPhone behind. The prince travels the land trying to track her down and, while the ugly sisters cannot oblige by providing the password, Cinderella can.
"I was really jealous of that story," says Souhami. "I thought it was wonderful."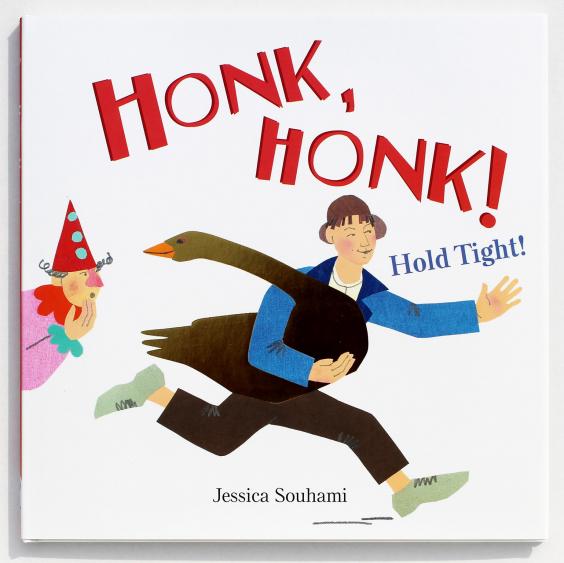 In fact, Souhami's latest book also takes a fairy tale and makes it appealing to modern readers. Honk, Honk! Hold Tight!, published last month, is about a princess who never laughs. In the traditional version of the story, set in the 17th century, a prince makes her laugh, he asks her to marry him and they live happily ever after.
"I wasn't going to have that," explains Souhami, so in her reworking the princess herself proposes to the prince because she wants to spend the rest of her life with someone who laughs.
This year, the poet and writer Rachel Rooney – whose books include The Language of Cat and My Life As A Goldfish – has set the challenge: write a poem on the theme of Light.
There are two categories for the competition: under nine-year-olds and nine to 11-year-olds – and entries have to be in by 30 November.
"The poem can be about anything to do with light," according to the rules. "It can be about the sun or the stars, about a fire or a candle, a firefly, a light bulb or maybe even a lamp post. Poems can be short or long, funny or serious. They can come in the form of a shape poem, a riddle, a list poem, a personification poem or something else – it's up to you."
With signed copies of works from each of the Children's Book Show's nine authors, and £150 for the winners' schools to spend on books, it looks as though the successful pair will read happily ever after.
Email entries to thechildrensbookshow@gmail.com or post to: The Children's Bookshow, PO Box 72019, London NW6 9SL