Welcome to this week's blog. Here's a roundup of your comments and photos from last week, including a defence of Googling while reading, immersive books that made a reader lock herself in a bathroom, and books you'd turn into Lego kits.
frustratedartist is reading Charles Darwin's The Voyage of the Beagle – and made a case for the positive side of reading with the internet:
I ground to a halt about halfway through last year, and picked it up again a couple of weeks ago. Now, with all the wealth of information photographs and video available on the Internet, not least David Attenborough's "Galapagos" documentaries, I can visualise the places Darwin writes about far more vividly than his 19th-century readers could. In fact I often find, when reading, that the Internet can make lots of obscure references and confusing descriptions crystal clear. St Petersburg in the 1860s? Paris during the first world war? The inside of a Napoleonic-era ship of the line? A few minutes on the Internet – Wikipedia , You Tube, Google images, etc. – and you can see these places. I find that enriches the reading experience immensely.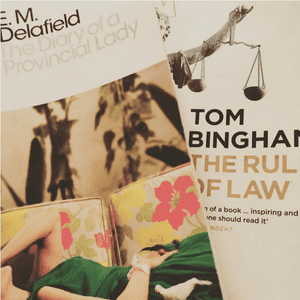 paulburns has just finished Paul Auster's City of Glass, the first volume of his New York Trilogy:
What can I say? Intriguing, fascinating, brilliantly imaginative, elegantly written, like no other detective novel I've ever read (if it is a detective novel), and over the years I've read a lot. I'm even writing one at the moment (actually it's a PI novel.) Auster's characters appear to be straight out of a classic noir novel on their first appearance, but you soon realise they're something else entirely. Just go out and buy it.
MildGloster has been reading Young Adolf by Beryl Bainbridge:
It's an intriguing experience to be back in the Bainbridge world again, it being one I find very tight, and pinched, and claustrophobic (although not negatively so). This is my third time reading her — after An Awfully Big Adventure and Injury Time — and although all three novels contain varying subject matter (a theatre company; a hostage situation; Adolf Hitler paying a family visit) they seem to me to be concerned with the same essential things: people as individuals, especially their private motivations and resentments; people as part of families, how relatives can both confine us and comfort us (often at the very same time); class — whether working or middle, aspirational or resigned — and what that means as to how we live; women and sex.

They also share an overwhelming atmosphere of drabness and abjectness and lowness.
Young Adolf has provoked a very familiar response in me as a result of these recurring themes and moods. I always tend to feel a bit hopeless when I pick up a Bainbridge book, a bit trapped, and I tend to laugh, too. It's all so close; Bainbridge surrounds me as a reader. Although her books are brief, I feel stuck in them, lost in their little colourless realities.
Audrey Schoeman is back from travelling, and among her reads, Eimear McBride's A Girl is a Half-formed Thing "comes in at the top of the pile":
It was amazing and totally unlike anything I've ever read before. You are completely immersed in the subconscious of the protagonist and at first the unusual syntax was difficult to read but it quickly began to feel entirely true. I've never been possessed by a book in quite that way. Reading it in Guangzhou airport during a 12 hour layover, at one point I had to lock myself in a bathroom cubicle and do some deep breathing just to pull myself back together before interacting with other people. I can't recommend the book highly enough.
Welcome to the community to ID0707631, who has just made a decision about their reading habits:
Last week I decided that I wouldn't buy any further books until Christmas Day. I've got so many books on my TBR shelves and yet I kept buying more. Well, I figured enough is enough, I will read the (anticipated, many fantastic) books on my shelves, borrow books from friends/library (I think it's important to support the latter, and I've not been doing enough of it of late) and I can pick up free books from the work book box. So I've got five months ahead without any new book purchases! I'll keep you posted as to how it goes.
I started with reading Dominion by CJ Sansom. I've got a couple of his titles on my TBR list but this is the one that I wanted to take on first. It was really evident that he'd done a massive amount of research into this novel, which creates an alternative ending to the Second World War; at no time did it feel glossed-over and not believable. I loved the touches such as the 1952 fog, an occurrence that really did happen. A great espionage novel.
Interesting links about books and reading
New: If you're on Instagram and a book lover, chances are you're already sharing beautiful pictures of books you are reading, "shelfies" or all kinds of still lifes with books as protagonists. Now, you can share your reads with us on the mobile photography platform – simply tag your pictures there with #GuardianBooks, and we'll include a selection here.
If you would like to share a photo of the book you are reading, or film your own book review, please do. Click the blue button on this page to share your video or image. I'll include some of your posts in next week's blog.
And, as always, if you have any suggestions for topics you'd like to see us covering beyond TLS, do let us know.